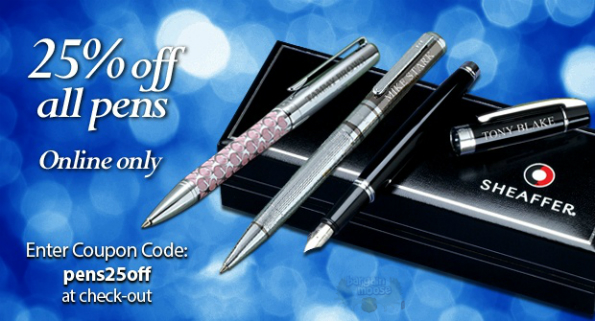 The penis mightier! Pen is, rather. Anyway, 25% off pens at ThingsEngraved Canada!
 Click here to buy pens @ ThingsEngraved.ca now!
Coupon Code: PENS25OFF
Discount: 25% off Pens
Expiry: Unknown
This is going to be a sexist post. I'm sorry. If you want to send me your 1700 page report on the dangers of a heteronormative structure, go ahead. I'm gonna talk to the guys (or the women buying for guys) in the crowd right now. You know when you see Michael Douglas or George Clooney pull out a pen in a movie to sign a cheque or a contract? Well they aren't pulling out blue BIC ballpoints. They're whipping out gold pens. Real classy stuff. You know why? Because they are playing powerful guys. Heads of business, politics, criminal entities, etc… There is something to reaching in to the inside pocket of your suit jacket and pulling out that awesome pen. Click click.
One of the biggest names in great pens is Cross, and Things Engraved has some great ones. What man wouldn't want to sign a contract with a Cross Townsend Medalist Ball-point Pen. And if a $116.25 (Was $155) pen isn't your bag you can get them for pretty much every price point down to the price of a couple of big boxes of BICs. You can even get accessories like pen stands.
Ad of course you can get these engraved for various prices depending on what you want on the pen. Personally I'd engrave "Pen" on it.
Get free shipping when you spend over $75.
Check out all out Things Engraved Coupons!