January 9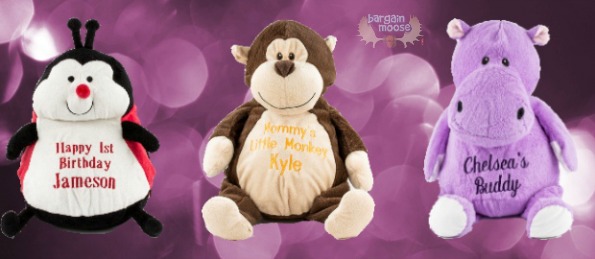 Get 20% off your regular-priced order over $50 with Bargainmoose's exclusive coupon code for Things Engraved.
Click here to get engraved @ Thingsengraved.ca now
Coupon code: MOOSE20
Discount: 20% off
Expiry: 31st January 2014
Things Engraved is a great store for gifts. I love giving and receiving personal gifts and I think my mom has supported the company herself with the number of personalized gifts she's given from them. It isn't just engraving either, you can also personalize plush animals, stockings, blankets and more. If you have a wedding, shower, new baby or any other type of event that should be remembered, Things Engraved has almost any item you can think of.
If a new baby is your future, this musical pewter teddy is a keepsake you'll want to keep. I have three of them myself (one for each babe), all given to my kids by Nana. Was $60, but with our coupon, you'll only pay $48.
I was gifted these everlasting heart champagne flutes (mine are a little different) with my name and my hubby's name to use at our wedding reception. We like to take them out on our anniversary and use them. We'd use them more often, but they'd get broken since that is the luck with glasses in our home. Was $60, now $48.
Things Engraved doesn't have to just make gifts either. If you have a disability or allergy that needs to be well-known in the case of an emergency, why not sport a more fashionable option like this Medilog woven bracelet. Was $45, now $36.
Spend a little more and get free shipping on orders over $75. You might as well, you get get 20% off whatever you spend as long as it is over $50.
For all Things Engraved and exclusive promo codes, you must check out the Bargainmoose forum.