February 13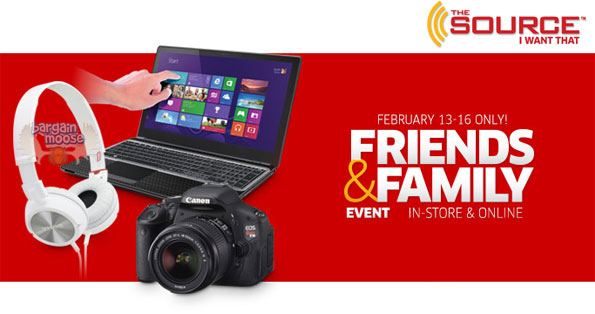 It's that time of year again: The Source's Friends & Family Sale is currently in full swing and during a couple of days only, you can save up to 30% on select electronics like headphones, batteries, digital cameras, toys and much more.
Shop the Friends & Family Sale @ TheSource.ca now
Coupon Code: 039362
Discount: Up to 30% off
Expiry: 16th February 2014
As usual with The Source's Friends & Family Sale, all of the same kind of merchandise is available at the exact same discount. At 30% off for instance, you can save on select headphones, batteries, cables and voltage converters.
At 25% off, there is a lot more to choose from with a variety of cases (phones, laptop, tablet etc.), gifts & gadgets and even TV mounts!
Basically, it really depends on what you're looking to buy as you can save anywhere from 5% to 30% on your purchase. During The Source's last similar sale, I actually took advantage of the opportunity to save on printer ink, which in my case is for a HP Photosmart printer as it came out to be slightly cheaper than if I were to shop anywhere else. So, depending on what you need, always price compare with other major stores like Walmart, Best Buy, Future Shop or even Amazon.ca!
In an effort to avoid paying the $4.99 shipping when I ordered, I had my purchases sent to the nearest The Source store and to be honest, while that's great, be prepared for it to not necessarily come all at the same time. I walked into the store on a day that I was just randomly shopping at the mall to see if maybe my order had arrived and turns out it all had, although no one had called me yet. So, I would definitely recommend checking in with them rather than waiting on the call but it could be different at your store as well.
As usual, don't forget to regularly check our The Source coupons page for upcoming promotions and discounts.
Is there anything you particularly need and might buy at The Source right now?