October 4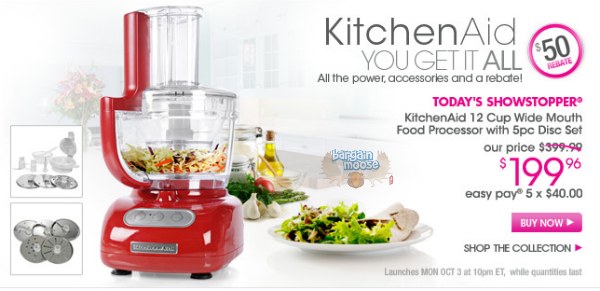 Just HAD to get this deal up right away!! Get this KitchenAid 12 Cup Wide Mouth Food Processor with 5 Piece Disc Set for $199.96 + $33.57 shipping. With it comes a $50 mail in rebate! This set is valued at $399.99. This is todays showstopper: starts 10 pm ET October 3rd.. ends 10 pm ET Octoer 4th or when they sell out.
After rebate you will have paid $183.53 + GST (and/or PST/HST) (thats including shipping) for the following:
12 Cup Wide Mouth Food Processor
12 & 4 Cup Work Bowl
Work Lids
Stainless steel blade
Mini Blade
Dough Blade
Citrus Press
Egg Whip
Food Pusher
2mm & 4mm Slicing Disc
4mm Shredding Disc
Accessory Case
5 Piece Disc Set (6mm Slicing Disc, 6mm Shredding, French Fry Disc Julienne Disc, and Parmesan/Ice Grating Disc)
It is available in 5 colour to match your kitchen: white, nickel, blue willow, empire red or onyx black. I like the Blue Willow colour the most but the empire red would match my new blender the best.