July 10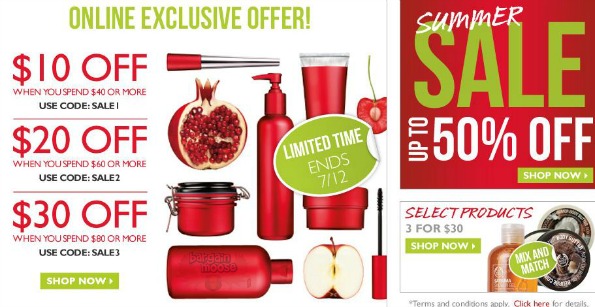 The Body Shop Canada has 3 coupon codes out that will save you between $10 and $30 on your purchases until 12th July.  This is an online exclusive only.
Here are the details for these coupons:
Coupon Code: SALE1
Discount: Save $10 when you spend $40 or more
Coupon Code: SALE2
Discount: Save $20 when you spend $60 or more
Coupon Code: SALE3
Discount: Save $40 when you spend $80 or more
This deal is an online exclusive and is not offered in any of the stores for walk-in purchases.  This is one of the many times it pays to shop online.
Here is the fine print for this deal:
The Online offer (the "Offer"), valid at www.thebodyshop.ca only from Tuesday, July 10 to Thursday, July 12, 2012, entitles customers to receive the following: (a) $10 off any purchases between $40 and $59.99; (b) $20 off any purchase between $60 and $79.99; and (c) $30 off any purchase of $80 or more. Products not eligible for purchase in connection with the Offer are pre-packaged gifts, gift cards, Love Your Body membership cards and charitable items. Offer is not applicable to prior purchases. Not valid in-store.
These coupons can be used in conjunction with other deals so make sure to check out the summer sale section with items up to 50% off the regular prices.
The Body Shop Canada offers $5 flat rate shipping on all orders$50 or more.  If you are spending $75 or more, you will get your shipping totally free.