July 25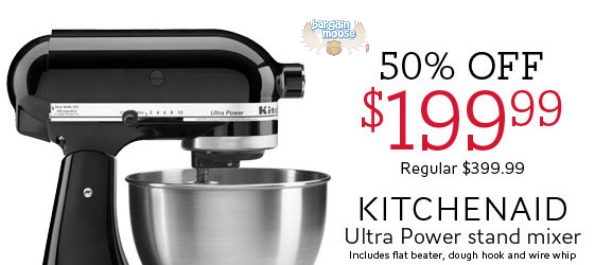 The Bay Canada has a good offer on this KitchenAid Ultra Power Stand Mixer – Now $199.99 (Was $399.99). You will receive free shipping as well because it is over the minimum required for shipping.
The KitchenAid Ultra Power Stand Mixer is 50% off, and comes on Onyx Black. They say black matches everything, a lot better than my grape purple stand mixer does!
It comes with:
Flat Beater
Dough Hook
Wire Whip
I own a stand mixer… Purple is my pride and joy. Recently I used the dough hook for the first time ever. I was making Pizza dough and it requires 10 minutes kneading. Previously I had attempted it by hand and usually made it about 5 – 6 minutes. This time I dumped it in the stand mixer with the dough hook and let it run on low for 10 minutes. The dough was perfect!
Expiry: 26th, July 2012