February 11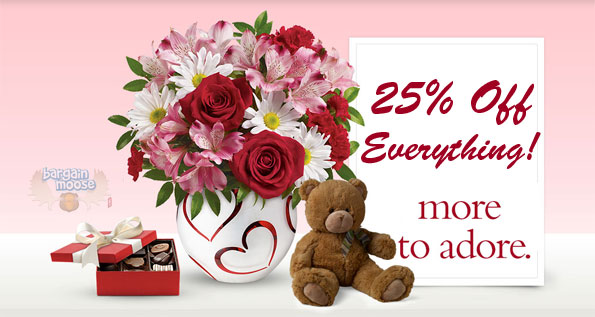 It's not too late to order a stunning bouquet of flowers for it to arrive on time for Valentine's Day and for you to save on at the same time! Simply use our Bargainmoose exclusive code for 25% off everything at Teleflora, from flowers to gifts, chocolates and much more.
Order a bouquet of flowers for Valentine's Day @ Teleflora.com now
Coupon Code: BRM25
Discount: 25% off site wide
Expiry: 31st December 2014
Take a moment to picture laying in bed the morning of Valentine's Day with your sweetie cuddled up in your arms and all of a sudden, the doorbell rings. She goes to answer and is surprised with the biggest and prettiest array of flowers ever! And you get to say, all you had to do was click around a little bit and didn't even have to leave the house. Although, you could tell her that you spent a couple of days deliberating between numerous bouquets at the local flower shop because they all didn't seem lovely enough for her; you know she is sure to swoon over that one!
Plus for a limited time, if you order one of the following bouquets, you will also be entered for a chance to win a pair of tickets to the NBA playoffs (definitely a win-win-win kind of scenario since you're putting a giant smile on her face, are saving money and might have a chance at seeing and getting to the game for free). There are other great prizes to be won as well. Check out the following great arrangements:
The best part is that all Teleflora flower bouquets come with the vase, which means that your love won't have to fiddle with anything. All she will have to do is unwrap the stunning flowers and place them wherever her heart desires — it's that easy and a particularly great Valentine's Day gift idea if you have yet to get anything. Clock is ticking!
Keep in mind that once Valentine's Day is over, this Bargainmoose exclusive will remain valid and easily accessible on our Teleflora coupons page until the end of the year for you to take advantage of on every occasion, even if it's "just because".
As usual, although there are no shipping fees, a service fee of $15.99 will nevertheless apply to all orders.