January 6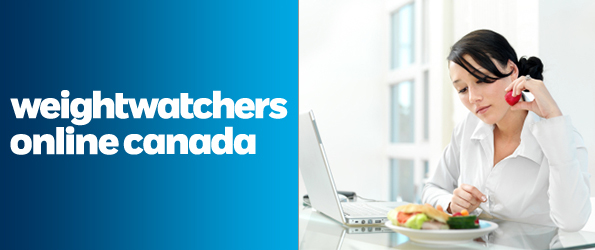 It's that time of year again! The post-holiday feeding frenzy and over-indulgence tends to lead to some new year's resolutions involving getting fit and eating healthy. Many of you may be looking out for deals on the likes of WeightWatchers online, and this post contains the latest deal as well as a mini-review as I have been on the plan for the last two months!
While the offers on Weight Watchers sometimes to change from month to month, the current offer from is a 25% discount when you sign up to a three month plan.
The amount you will pay for the full three months of Weight Watchers online is $77.63 today. That equates to about $25.88 per month for the duration of the three months. Then after the three months, the WeightWatchers online plan continues at their normal rates, unless you choose to cancel (which you can do at any time). Here's a quick screenshot of what you should be seeing and paying:

As you can see above, if you only sign up for one month, you're paying just under $58 anyway – so you might as well pay the $20 difference for the extra two months.
Weight Watchers Online Mini Review!
I signed up to the plan just under two months ago. The initial signup was very easy. I added in some personal details such as height and weight and then the system suggested how much weight I was going to be aiming to lose per week. The program initially suggested a weight loss of 1.5 to 2 pounds per week, which sounded doable!
On the day that I commenced the Weightwatchers online plan, it definitely changed my outlook. When the kids have gone to bed and I am finished work in the evenings, I usually sit and watch something on Netflix for an hour, to wind down before bedtime. Inevitably, this usually leads to me snacking on chips, olives, cheese, things like that. But knowing that I'd already used up my Weightwatchers points for the day helped with my self-control, and I didn't snack at all (that first day!). I had a cup of tea, some water… and I even did some yoga and light exercise in my living room while watching TV! I did wonder to myself if this was going to be a sustainable practice… well, the light exercise wasn't carried out again. But the awareness of my daily points levels definitely led to a decrease in those unhealthy snacks. I started eating more fruit when I felt peckish, and some evenings I did not snack at all!
I didn't realise that the Weightwatchers food tracker was so detailed! The first morning I was using it, I popped Weetabix in to the search box, only to see a huge variety of Weetabix items appear. When I selected the Weetabix product that I'd eaten and realised that was 6 points gone from my daily allowance, I decided to reconsider the next morning's brekkie. Again, the program really makes you aware what you are eating and how much it contributes to your daily allowance.
As many of the Moosers probably have guessed, Christmas is our busiest time of year here on the site, so the last few months have been pretty hectic for me. After a few weeks, I found myself too busy to input the food that I was eating each day – but I still had the points plus values in the back of my head while I was preparing and eating meals. I think that if I was on the plan at another time of year, I'd be more diligent about tracking the food.
I did make an effort to track my weight every few months as you can see in this graph: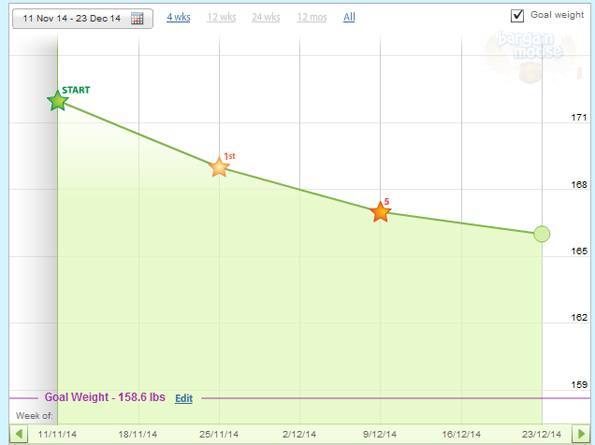 I was quite pleased with the results! Even though this graph is showing the Christmas holiday period and I was not eating terribly healthily due to the time of year and my own time constraints, I have still managed to achieve a 6 pound loss over the time period shown. But real life things do tend to crop up such as the fact that myself and my baby daughter both caught Scarlet Fever! This messed up my regular eating plans, what with having a sore throat and fever myself. But even so, I was still able to track my eating, even though that was sporadic during the period of ill health.
But all in all, I was very happy with the plan and I'd definitely consider using it again. I think that if the Weight Watchers plan was combined with an exercise regimen, I'd see even greater results over a faster time period.
How about you? Will you be giving Weight Watchers a try soon?