November 23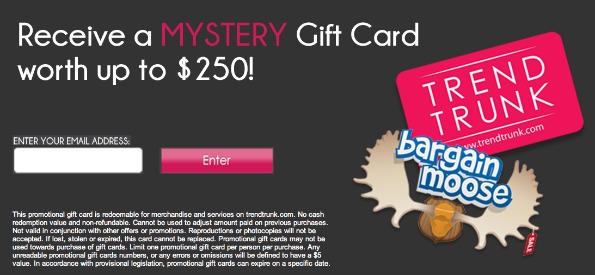 Bargainmoose Canada has teamed up with one of my favourite companies: Trend Trunk Canada. Just click through the link below, enter your email, and you will receive a free mystery gift card worth up to $250! This offer is valid for new customers only.
There is only one gift card allowed per customer.
I love this and only wish I could do it again! I am a long time customer of Trend Trunk and a long time seller, too. They have the most marvelous wardrobes on there, with great brands like Coach, Lululemon, Bench, and more. The website epitomizes the idea of reduce and reuse by taking items you no longer wear out of your closet and reselling any that are in great condition. As buyers, you get to buy good quality clothing at a fraction of the price of buying the same item new in store. You can also find vintage items, and handmade wares in the website as well. These Marc by Marc Jacobs Wedge Sneakers retail for $358, but are on Trend Trunk for only $158 including shipping. If only they were my size!
Trend Trunk was recently on The Dragon's Den. You can watch the clip here and see what they are doing after The Dragon's Den.
Drop us a line and let us know what your mystery gift card was for. Hope someone gets in on a big card or two! For more Trend Trunk coupons, check out the Bargainmoose forum.