January 27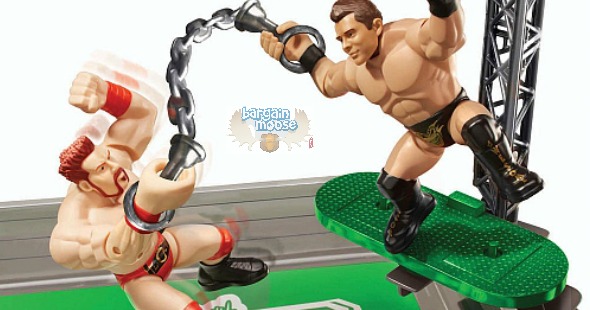 I grew up with two brothers who were obsessed with WWE and wrestling. I couldn't tell you how annoying it was to be wrestled to the floor constantly or to hear them wrestling all the time. I wish they had some sort of WWE playset back then. Right now, Toys R Us Canada has a great deal online on the WWE Power Slammers Wrecking Brawl Playset. Instead of paying the regular price which was $40, you will pay just $19.98. 
The WWE Power Slammers Wrecking Brawl Playset for just $19.98 at ToysRUs.ca is sure to occupy any little boy between the ages of 5 and 10. This playset includes the wrestling ring, super-structure, movable match start module, ladder, Money in the Bank briefcase and a Power Slammer figure. Unfortunately you will need to purchase another Power Slammer figure or wrestler to really make it a wrestling match. WWW Superstar Action Figure Triple H is just $12.98.
I wanted to make sure that this was the absolute lowest price you could find on this toy, so I took a look at what other retailers are selling this WWE Power Slammers Wrecking Brawl Playset for. This playset was $50 but is now on sale for $23 @ Amazon.ca. Even at the price of $22 at Amazon, stock is already low and you won't get free shipping either (unless you spend $25). You can also find this WWE playset for $30 @ Walmart.ca.
There are a few excellent reviews on the Walmart website for this product, but no reviews on ToysRUs.ca yet. So far it looks like this toy is a great way to contain the excitement of wrestling. Teach your boys to wrestle with the playset instead of each other to save things from breaking within the house. I know it is hard to find things to occupy the children during these cold, Winter months.
You could also get free shipping if you spend $25 or more at Toys R Us Canada online, so add something small to your cart to benefit from that. Free shipping from Toys R Us is great considering their regular shipping charge is $7.73. So really, it makes sense to add another wrestler for $12 rather than pay the shipping fees. If you can't find anything else to add to your Toys R Us shopping cart, you can always opt for free in-store pickup.
Did any of you Moosers have to tolerate wrestling obsessed siblings?
(Expiry: Unknown)