June 26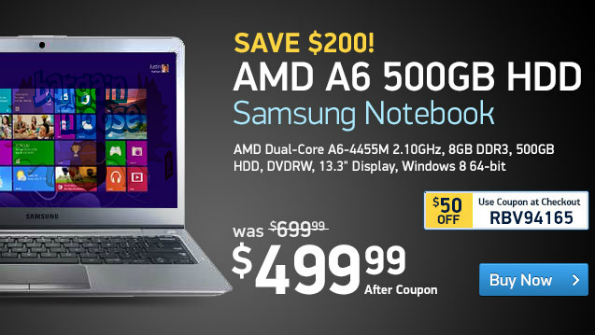 Save $200 on this awesome Samsung laptop from TigerDirect Canada! This deal is a two part thing. You save $150 just for showing up. The other $50 is saved with a coupon code.
Click here to get your new Samsung Laptop @ TigerDirect.ca now!
Coupon Code: RBV94165
Discount: $50 off Samsung 535U3C
Expiry: Unknown
The laptop on sale is Samsung's 535U3C. It's a great value laptop – perfect for a student or someone who just wants to go on Facebook and Youtube.
It's specs are as follows.
AMD Dual-Core A6 Processor
8GB DDR3 RAM
500GB HDD
13.3″ Display
Samsung has really been hitting it out of the park lately as far as laptops go. This laptop isn't anything to write home about, but generally when you see a company who is starting to put out top shelf, innovative products, it's because they've managed to consistently make solid products on the mid-range. Samsung has done this with phones and TVs and is starting to do the same in laptops. There are a lot of very cool high end Samsung laptops out there, and they can only build that product line on top of solid offerings like the Samsung 535U3C.
Shipping varies based on where you are but for me, to Atlantic Canada, is under $15.
For more deals, check out our TigerDirect Canada Coupon Codes!
Do you like Samsung gear? What Samsung stuff do you have? Let me know in the comments below!