April 8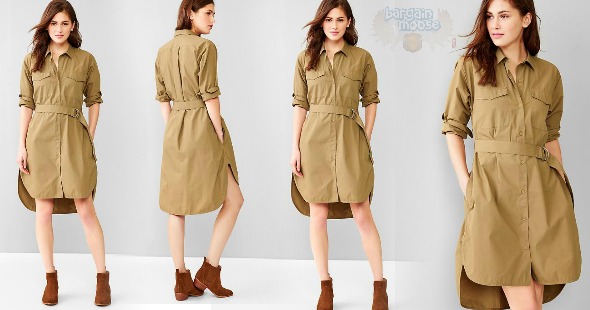 Summer is just around the corner, but perhaps you have not updated your spring and summer wardrobes yet. If you like to shop at Gap Canada then keep reading. Today Gap Canada has a coupon code to take $45 off your purchase of $100 or more. This offer ends at midnight though. You will even get free shipping since your order will exceed $50.
Click here to shop @ Gap Canada now
Coupon code: GAPMORE
Discount: $45 off $100
Expiry: 8th April 2015
While the list of exclusions may seem long for this discount opportunity at Gap Canada, there are still many items that can be discounted. Some of the exclusions include items like final sale, jeans, leather, suede apparel, sleepwear, school uniforms, shoes, women's swimwear, and a few more third party items. I have tested and confirmed that this code can be used on sale items though.
The Belted Shirtdress from Gap Canada is a great addition to any spring or summer wardrobe this year. This dress would normally cost you $89.95 but is on sale for $49.99. If you spend $100 or more, you could get this item for even less. It is hard to give an exact cost for this item once you receive the discount, as Gap Canada will evenly distribute the discount through all of the items in your cart. I added this item along with 2 Floral Stripe Tunics and the dress ended up only costing me $30.59 instead of the previous price.
The Floral Stripe Tunic is also an adorable spring wardrobe item. This tunic was $39.95 and only discounted to $32.99. By adding two of these shirts and the Belted Shirtdress mentioned above to my cart, I ended up only paying $20.19 for each of these shirts. They come in two colours: white & blue as well as black & pink. Sizes seem to be selling out rather quickly in the black & pink version though, so if that is your preference then snag it quick.
I do really like clothing from GAP Canada. I have a pair of khaki shorts that I bought a few years ago in my local Gap store and I don't think I could ever part with them. They are comfortable, the perfect length and the tan colour goes well with everything. I wish they still sold that style actually. The style they have now is a bit longer in the leg.
Since you will still be spending over $50 once you use this coupon code, you will even receive free shipping from Gap Canada. Be sure to select the "Free Every Day" shipping option at the check out process or unfortunately you will still incur the costs.