May 23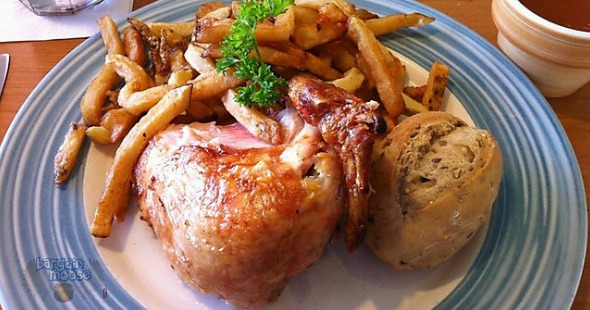 When you think of Swiss Chalet, what is the first thing that comes to your mind? Their most popular dish has to be their Quarter Chicken Dinner. Swiss Chalet Canada has a coupon to get their Delivery Dinner for 2 for just $24.99, which includes 2 Quarter Chicken Dinners, 2 appetizers and 2 cans of pop.
What  is your idea of a perfect date night? Me, I would personally enjoy a candle lit dinner at home with a good movie and some snacks. Maybe a bubble bath after. Rather than cooking the meal, why not order in? Right now Swiss Chalet Canada has an excellent offer on their Delivery Dinner for 2. Use their new coupon to get the Delivery Dinner for 2 for just $24.99. The Delivery Dinner for 2 includes:
two quarter chicken dinners
two appetizers
2 cans of pop
When it comes to your quarter chicken dinners, there are a variety of sides to choose from. I always get the fries but if you are trying to be a little healthier, you can always opt for the veggies or salad. Theappetizers must not exceed the value if $6.99 each. This offer is valid until the 24th of June and is valid on delivery meals only. You can use the print coupon, but you might have to mention or enter the coupon code SC46 when ordering online or by phone. Don't forget that white meat will cost you an additional $1.50 per entree, I prefer dark meat anyway. Please keep in mind you are limited to one coupon per order.
So how much are you actually saving by using this coupon code? Let's take a look at some of the prices on the Swiss Chalet Canada menu. The Classic Quarter Chicken dinner is $9.59 each, the appetizers would be around $6.99 each depending on the appetizer you select, and the pop would be $1.59 a can. That puts your total at $36.34 before using the coupon code. So you save $11.35 which is more than enough to grab another chicken dinner if you are looking to feed another person. I happen to immensely enjoy their "Messy Chicken Sandwich", so I would add that to my order for sure.
You can get access to all of the Swiss Chalet Canada coupon codes and print coupons in our Bargainmoose forum.
(Expiry: 24th June 2015)