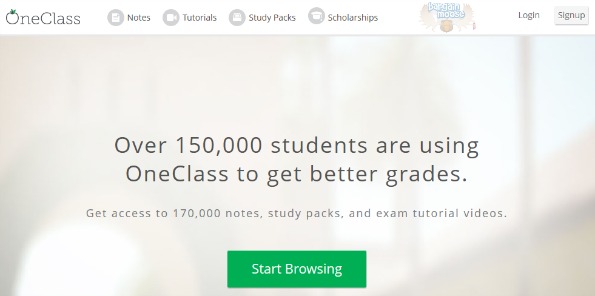 One Class Canada gives you access to notes, study packs, and exam tutorial videos to help you improve your grades. The Bargainmoose has an exclusive coupon code for 50% off your first month when you purchase a subscription to their services.
Click here to explore One Class Canada now
Coupon Code: ONEMOOSE
Discount: 50% off first month
Expiry: Unknown
OneClass specializes in giving you the tools to improve your grades. You get access to notes and can search for them by university, class, and/or professor. Even if you are taking your own notes this can be really helpful if you are having difficulties understanding the instructor or want to take less notes and listen more. They also have tutorial videos that will help you grasp the key concepts plus various other tools.
The only thing I don't like about One Class is the limited number of notes in the database. I am sure this will improve in the future as the company expands; however, neither my current university nor the university I am at on a letter of permission from had any notes listed for them. They each have a student population of over 10,000 so I was a bit disappointed. On the positive side, I did get to download some Spanish notes from Toronto that will be VERY useful. You only start with 60 'credits' and it cost me 40 just to download one chapter of notes, so you will run out of credits quick.
It is free to join One Class but you have limited access to notes (60 credits). For unlimited access you have three options:
$10 a month
$8 a month for four months
$5 a month for twelve months
No matter which you choose you will get 50% off your first month with the above coupon.
For this and any future One Class coupon codes be sure to check the forum.