June 23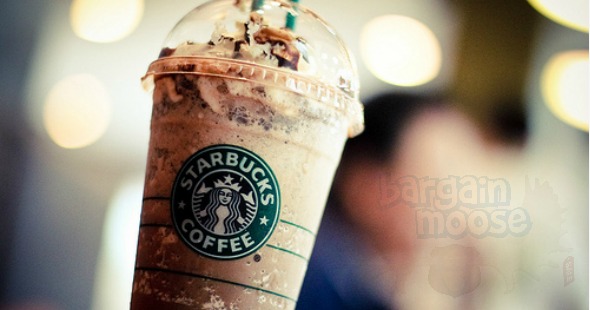 Starbucks can be pricey – especially for us frugal thinkers. I do, however, find it hard to pass up my favourite Strawberries & Cream Frappuccino. While I do cringe at the thought of spending upwards of $3 per beverage, I quite enjoy this blended drink. We will all enjoy the Starbucks Canada Frappuccino a little more with their new coupon though. Starbucks Members can buy one get one free on any Frappuccino Blended Beverage at participating Starbucks Canada locations.
So if you have been craving your favourite Frap, head into Starbucks Canada with your registered Starbucks Card or App and print or show this coupon to your Barista. You will get the Frappuccino of lesser value for free. This offer started yesterday and is already a huge hit. Don't hesitate too long, the offer ends on the 29th of June. The fine print of the coupon says that this offer is exclusive to one person, but after comparing many coupons that Starbucks Members have received – this is not the case. Just be sure to use your Starbucks Card or App to pay, that's all.
What an excellent way to celebrate the first week of summer. There are so many Frappuccino Blended Beverages to choose from. My personal favourite was Strawberries & Cream, but just a few days ago I tried their S'mores Frappuccino Blended Coffee. That drink holds tough competition, let me tell you. While I am trying to only eat healthy, these Frappuccinos are dangerous. Every sip of that delicious S'mores drink was heaven. I will cheat on this diet. I will drink it again, and this coupon just enables that. If I don't have a friend with me, I may just drink the free one myself. Shhh don't tell anyone that.
So take a look at the Starbucks Beverage List on their website and start drooling over their selection of Frappuccino Blended Beverages. If you are a Starbucks Member, head in and make use of this coupon with a friend. Hello summer, goodbye $4 beverages. These drinks can cost anywhere from $3.25 for the smallest size up to $5.45 for the largest size. So if you bought to Venti Frappuccinos, you would be paying about $3 each. That doesn't sound so bad for the size of that drink. The Venti drinks are 20 oz. Don't forget that the Frappuccino is topped with their delicious whip cream and sometimes other drizzles and toppings as well. You can view and share Starbucks Canada's coupons in our Bargainmoose forums.
Well Moosers – what Frappuccino Blended Beverage will you pick during this BOGO offer at Starbucks Canada?
(Expiry: 29th June 2015)