March 15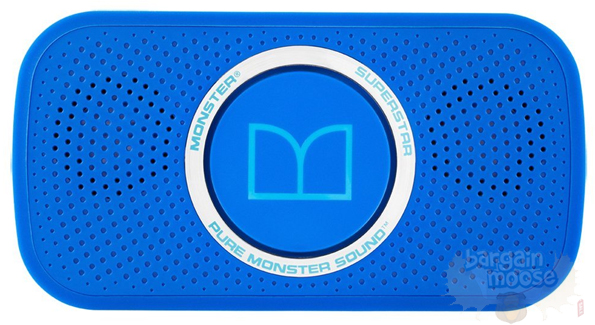 While browsing Amazon.ca for price drops this morning, my web browser happened upon a deal on this neon blue Monster Superstar bluetooth speaker which was originally priced at $169.95. If you want to save 59% on the cost of this item, you can do so just now because it's only $69.99 and that comes with free super saver shipping from Amazon Canada!
The speaker is also available here in the black and grey finish here on Amazon but it is priced at $83.99, so it's nowhere near as good a price as the blue model. I know that the neon blue finish won't be to everyone's liking, but if you can live with the colour then this speaker is a bargain and a half. Avigayil last posted about this item here back in January when it was $89.99 @ Shop.ca. But just now, you're getting an even better deal.
If you're interested in this deal – please buy now. Amazon stock is notorious and it can go out of stock at this price at the drop of a hat. I think it's a hot price and won't last for long. It's the lowest price I've ever seen this item for on Amazon.
How about the prices elsewhere online? Pretty much everywhere else that I checked online in Canada, was selling this very same speaker in various colourations for around $120 to $140. This includes the top sellers such as Best Buy, Staples, Future Shop, The Source and a few more. The next best price I could see online was $98 @ London Drugs here, for the pink and black model.
As for the product itself, it seems to score some good ratings, having achieved five 5 star reviews there on Amazon. It's a fairly similar story where there are a couple more reviews here on Future Shop, with 14 five star ratings. Here's an example for you:

As you can see, this buyer was very happy with their new speaker! They've got a party in their pocket and they're not afraid to share it.
(Expiry: Unknown)