June 25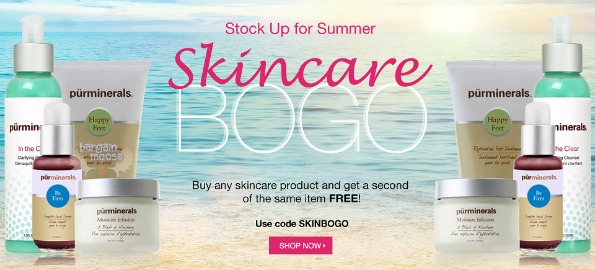 Buy one skincare product and get one free with coupon code at Pur Minerals right now. You will get the same product free with your first purchase, which means you'll have one for summer and you can save the other for fall!
Click here to shop @ Purminerals.com now
Coupon Code: SKINBOGO
Discount: Buy one, get one free
Expiry: Unknown
Winter is hard on your skin, and while you look great all summer with a bit of glow, that's when you start to notice skin damage, spots and for me, breakouts big time. I have never shopped at Pur Minerals, but looking through their skincare line, I'm definitely intrigued.
The See No More pore minimizer (Item No: 851114010) sounds like an amazing product for someone who absolutely hates their skin (me). The serum reduces pore size and makes your skin smoother and primed for makeup: $23.
Without parabens or formaldehyde and not tested on animals, the Pur Body Butter (Item No: 951131020) in a natural lemon scent sounds fab. Take a look at your legs. If they are anything like mine you might wonder who replaced your calves with a crocodile. Scales are for fish, not humans: $23.
The Pur Polish (Item No: 951135010) is so effective, it's just like going to the beach every day and rolling around in the sand. You might look a little strange doing so, so try this instead. The reviewers recommend you do: $23.
Get free shipping on orders over $50.
The Bargainmoose forum is where we hide all the good coupons for Pur Minerals. See what you can find!