February 13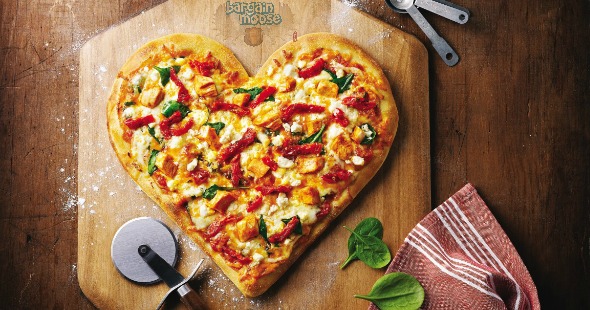 Craving Pizza? I am always craving pizza. Especially when Pizza Pizza Canada combines their delicious pizza with hard to resist offers like this. Right now, you can get a free 2 for 1 Cineplex Movie Admission Voucher with select pizza purchases from Pizza Pizza. To get this dinner and a movie offer, there are two options. You can purchase the 10″ Heart Shaped Pizza and two toppings for $10.99 or you can get any size pizza with three toppings and three pops for just $13.99 to receive your voucher for a 2 for 1 Cineplex Admission.
For me, date night doesn't have to be expensive. I am more than content with a simple pizza dinner and a movie. Pizza Pizza is making this option easy with their newest offer in celebration of Valentine's Day. For a limited time, or while quantities last, you can get a free 2 for 1 Cineplex Movie Admission Voucher with your purchase of one of two select pizza offers.
The first Pizza Pizza Canada offer that comes with this voucher is their famous 10″ Heart Shaped Pizza. This pizza is absolutely perfect for Valentine's Day. The 10″ pizza comes with two toppings and the 2 for 1 Cineplex admission ticket. The size of this pizza is even perfect for two. Select the two toppings of your choice – I would choose green olives and green peppers. Yum!
The other option would be to order any size pizza (small, medium or large) with any 3 toppings and any 3 pop starting from just $13.99 to get your 2 for 1 Cineplex Movie Admission. Of course the smallest size starts at $13.99. The small size pizza has six slices and each size up gets two more slices. If it is just you and your valentine enjoying this pizza, a small or medium size should suffice with possible leftovers for a perfect breakfast (in my opinion).
I am sure you are all well aware that Fifty Shades of Grey was released today. I know I have my tickets for the 7:30 show! This is a great way to watch this much anticipated film for half price. Although this may not be the movie you want to see with your hubby, a great girls night is always needed too. In previous offers like this, the voucher you got with your meal was only valid Monday through Thursday. I hope that is not the case this time, but it is too early to say. What movie are you planning on seeing with your 2 for 1 Cineplex admission voucher?
(Expiry: Unknown)