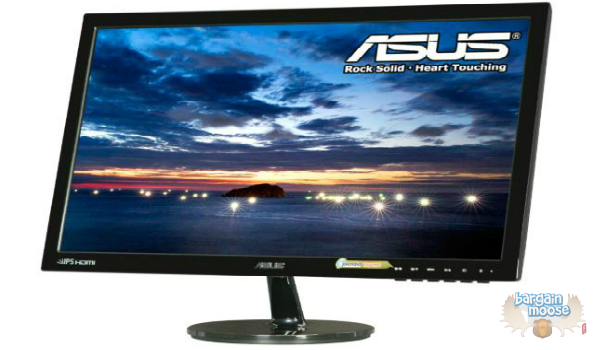 A great new monitor and a great price from Asus and New Egg Canada!
 Click here to get your new Asus monitor @ NewEgg.ca
Coupon Code: CAWKLY03251
Discount: $20 off
Expiry: Unknown
So the price is kind of hard to figure out here since some of them are applied after taxes but it's more or less $209.99 – $30 instant discount – $20 coupon code – $20 mail-in rebate. That ends up being $140! This really is a good deal for a monitor like this. I took a look around at other retailers and I found that amazon.com (who is usually cheaper than Canadian retailers) is selling it for $170. So this is $30 cheaper than the  place that usually sells stuff for cheaper than we can get in Canada. Not too shabby, eh?
I haven't had an Asus monitor but I've used them fairly extensively and I like them quite a bit. My tablet was an Asus and the screen in that was good too. On top of that, the rating on NewEgg Canada is 4/5 eggs, which is great when you realize that people tend to review items they dislike more than items they like.
Shipping is free. For more NewEgg Canada coupons, click here.
(Rebate Expiry: 31st March 2013)