September 22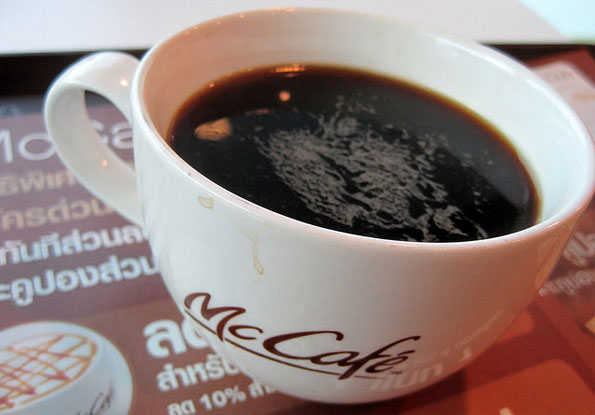 Calling all coffee addicts: during the next week, you can get a free small coffee at McDonald's for free!
I never ever step foot into a McDonald's for anything but for free coffee, I would definitely go! What can I say, free is free and any opportunity to save money is certainly a great one, especially considering how much my household spends on Tim Hortons on a weekly basis.
This kind of McDonald's freebie isn't the first of its kind. In fact, this mega chain runs this same promotion every so often with the last one being in February but there is a major drawback to it. I know you're probably wondering what drawback could there possibly be to a freebie but that's exactly the point. This freebie is one of the most popular at McDonald's and plenty of sleep-deprived coffee addicts are sure to be hitting both the drive-thru and the line-ups inside. If you plan on grabbing one before work, then I definitely suggest leaving a little earlier just to make sure that you don't run late. I regularly pass by the drive-thru at my local Tim's and even there, I frequently have to wait for what seems like forever while a line-up of cars seemingly waits for mega orders to be completed. It can be frustrating for sure, especially if you're on a time crunch but as I have already said… free is free and this one's definetly worth it.
Given that this McDonald's promotion runs for exactly one week, the way I see it is that if you get one small coffee each day, then you're sure to save at least $7 ($1 per day). Now, if you happen to go more than that in a day, then you could save even more than that! Not too shabby, especially if you then use the money you saved to spend it on coffee the week after!
However, if you're a daily McDonald's visitor and you don't see this freebie as a good thing given the line-ups and waiting times that are sure to ensue, then you could always hit up Tim Hortons instead. Over the week-end, Krista wrote about a $1 small coffee deal at Tim Hortons as starting on September 22nd as well, they are offering their new dark roast in a small format for just $1.
(Image Credit: Michael Allen Smith)
(Expiry: 29th September 2014)