December 21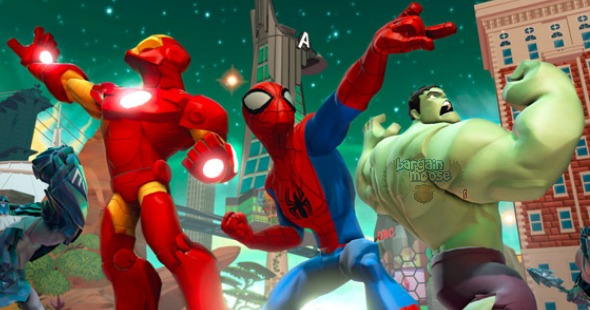 Some of you Moosers might have an Xbox One sitting under your Christmas tree from Santa, and in that case you won't want to pass this deal by. The Disney Infinity 2.0 Marvel Super Heroes Starter Pack for Xbox One (Standard Edition) is only $39.99 right now, which is marvelous considering it was previously $75.
With this Disney Infinity: Marvel Super Heroes Starter Pack from Amazon Canada, you and your kids will be able to use the Marvel figures to activate play sets in the virtual game. You can take on the role of the Marvel characters in this starter set which include Iron Man, Thor, and Black Widow. There are more than 20 Marvel characters available to purchase and add on to the fun as well. You can purchase these alternative characters to play as Captain America, Hulk, and so many more. This game should be fun for the whole household. Choose to create your own stores or even recreate your favourite comic book stories.
This Disney Infinity Marvel Starter pack also includes: Disney Infinity Marvel Super Heroes 2.0 Edition Video Game, Disney Infinity Base, Two Toy Box game discs, Marvel's The Avengers play set piece, a Web Code card. This game is rated E for everyone, just make note that there is awesome cartoon violence like smashing trees and throwing cars.
If you have other gaming systems, this Disney Infinity 2.0 Marvel Super Heroes Starter Pack is available at a discount for other consoles as well:
To ensure you get the best deal, I put together a little price comparison.
This Disney Infinity 2.0 Marvel Super Heroes Starter Pack will also include the shipping cost from Amazon.ca. If you order now, Amazon Canada also states that your item will arrive before Christmas.
Reviewers on Amazon.ca seemed to love this one, one review states:
My boys can't get enough of this game. They love superheroes and Infinity 2.0 is way better structured than the first one with helping guide them to missions. Since they are only 4 and 7 years old the concept of spending skill points needed to be explained but all in all a great game.
Which character will you choose to be, The Hulk crashing down trees and throwing cars – or Captain America to save the world?
(Expiry: Unknown)