May 9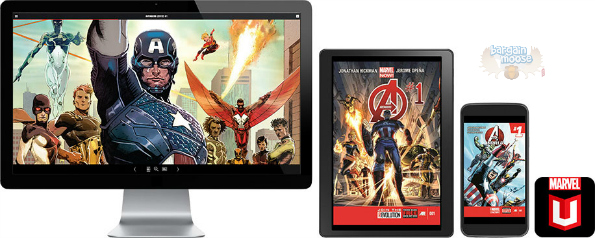 Marvel is celebrating the recent release of the new Avengers movie Avengers: Age of Ultron. In honour of their new movie, they are offering a FREE month of Marvel Unlimited with the following coupon code.
Click here to sign up for Marvel Unlimited now
Coupon Code: ULTRON
Discount: One free month ($9.99 value)
Expiry: 17th May 2015
What you get:
You get access to over 15,000 digital comics spanning the last 75 years from Marvel. This database is enough to keep any comic book lover knee-deep in comics for years. One month worth of free comics is merely a tip of the Marvel iceberg. Are you taking some vacation time in May? Good, you are going to need it.
What you save:
The Marvel month-to-month subscription regularly costs $9.99 so this offer has a $9.99 value. You will need to cancel your subscription before your next billing cycle so you do not get charged the full cost for the next month. As I have mentioned before, you will want to cancel your month-to-month subscription anyway as the annual subscription is a far better price. At $9.99 per year, you would pay $119.88 for an entire year. However, the annual subscription for Marvel Unlimited is only $69 per year of $99 for the 'Plus' annual membership.
The free month is only valid on monthly subscription sign-ups. This offer is open to new and former (now-cancelled) Marvel Unlimited members. A valid payment card is required to redeem this offer, as it is an auto-renewal system.
I have always been tempted by these offers from Mavel Unlimited, but I am generally scared that I will forget that I have a life. I mostly read comics and graphic novels these days. Thus, an unlimited pass to Marvel's archives would be like candy to a diabetic baby.
We have the new Marvel movie Avengers: Age of Ultron to thank for this sweet promotion. Most the Marvel Unlimited promotions in recent past have required a token payment (75¢ or 99¢). Thus, this is a rare deal wherein it requires no payment for your first month.

Have you seen the new Avengers movie yet? I am not planning to see it in theatres as I hear Loki does not make an appearance. While I like the person who plays The Hulk – really I just watched the first movie for Loki.
All prices are in USD.