May 11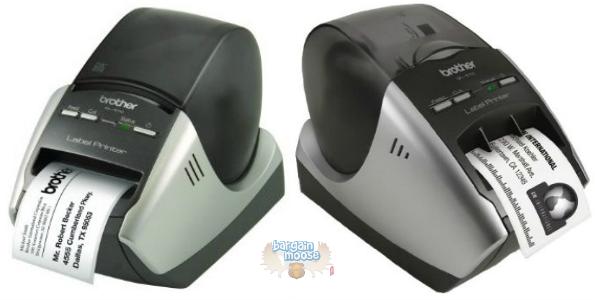 Automate your label making with the Brother Professional Label printer. This fast labeler was $119.99 but is now only $29.99. This item also qualifies for free super saver shipping from Amazonc.ca.
A friend of mine runs a business selling puzzles out of their home. I had no idea that puzzles were such big business until I met them. They sell online everything from large puzzles for adults with a billion pieces to small wooden kid puzzles. They upgraded their home and now operate their business directly from there. Regularly they are standing at the post office with many packages to ship.
I bet a labeler like this would come in very handy for any small business owner. The Brother Professional Label printer is on sale for a great price today and prints up to 68 labels per minute. With a cutter inside, your shipping labels should roll off this machine quickly and efficiently.  The maximum tape width is 2.4 inches, but you can use tape that is thinner than that if you would prefer. I would love to have one of these printers around when we do our massive Christmas card list and use a skinnier label. This label printer is fully compatible with all of the Microsoft products, so you can easily create your labels in Word, Excel or Outlook. With a USB connect, this labeler will also print from a Mac.
Price Comparison
Check out some of the prices you will pay for the same labeler around the web.
This printer is in the 570 series, but I also noticed there is a second model that is part of the 700 series. Every 700 series model is currently priced at over $100.
Reviews
PC Magazine gives this label maker a great review, saying that overall it is fast and works with a variety of label sizes. At Amazon Canada, this printer has a strong four and a half star our of five stars rating with over 55 reviews. The reviews I have seen around the web also seem to be mostly positive. Here is one reviewer over at Best Buy Canada.
Great addition to my work space. It's flexible and works like a charm. Printing is clear and adjustable like a word processor program.
Brother printers are also well known in the market. If I was going to pick up a label maker, I would be happy knowing it is a Brother product.
This machine is quite simply going to help you print of labels that are quicker and crystal clear. If you print multiple labels for business or home projects, this is a sweet buy to pick up today. Grab yours now while there is still some time on this weekly deal. Sometimes the Amazon Canada deals sell out long before the expiry.
(Expiry: 17th May 2015)