April 22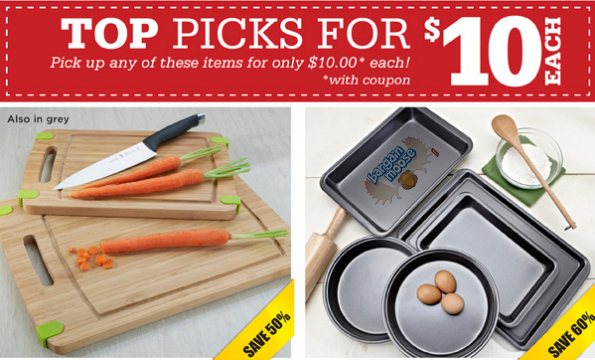 Kitchen Stuff Plus has an interesting promotion on. Select up to two items from the promotional page below and get each for only $10 with the following coupon code.
Click here to see the items eligible for this promotion
Coupon Code: RHD416
Discount: up to 2 items for $10 each
Expiry: 27th April 2014
I picked out the KSP Crackle Creme Brulee Torch with Ramekin (Black) – Set of 5, which was originally $24.99. It is currently on sale for $14.99 and when you apply the coupon the set further comes down to just $10. Creme Brulee is one of my favourite deserts yet I do not have the necessary equipment to make it as it requires a torch to get that perfectly delectable crust on top. This set comes with four dishes and the torch so, in my books, it is a great deal.
For my second item, I chose the Toscana Porcelain Cake Stand with Server (White) because I do not have a cake stand and a cake presented on a dinner plate does not have the same grandiose appearance as one presented on an appropriate cake stand. I like that it comes with the bonus server because I also don't own one of those. Like the set above, this was originally $24.99, is on sale for $14.99 and comes down to just $10 with coupon.
You can choose from any two items on the page linked to above. I suggest checking out some of the other deals on the Kitchen Stuff Plus website as shipping is a flat rate of $8.25 unless you spend $75 to get free shipping.
For this and other Kitchen Stuff Plus coupon codes check out the forum.