September 16
Posted by
Ivan Ciano
on September 16, 2014 at 10:00 AM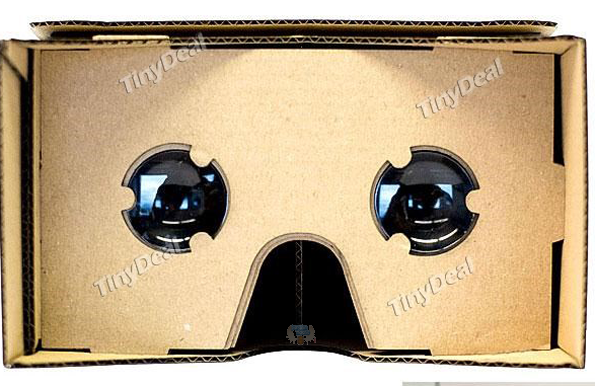 If you're looking for an exceptionally affordable virtual reality experience, this is it. At this time, TinyDeal is offering up some intriguing DIY Google Cardboard Cellphone Virtual Reality 3D Glasses, which are compatible with a myriad of smartphones. They normally cost $11.11, but you can now get them for just $3.66! As an added bonus, you'll also get free shipping! This is a presell (the first batch of these units sold out quickly), so they won't be shipped until October 6. Since this item is coming from China, it may take a while for it to arrive (according to TinyDeal's website, it should take between 7-25 business days), but remember Bargainmoosers – it's still free!
Oculus Rift, eat your heart out! These DIY Google Cardboard Cellphone Virtual Reality 3D Glasses just take a few minutes to assemble. Once it's put together, just slide in your cell phone, and enjoy! You can see how it works by clicking here. It's compatible with smartphones that have 4 – 5 inch screens, such as the iPhone, Google Nexus 4/5/6, Samsung phones, HTC One, Xiaomi Mi3, and many others.
TinyDeal is fairly new to Bargainmoose. Even though they're based in China, they offer free worldwide shipping to customers for packages that are under 2 kg. So far, we've seen some very interesting deals from this company! If you're uneasy about dealing with a company that takes longer than average to ship your order, then I recommend that you use Paypal when dealing with them.
I'm very intrigued by this item! It took me back to a time when I tried to make my own "virtual reality" system out of a cardboard milk carton and pictures. It should come as no surprise that my experiment failed miserably. However, this product is very affordable, and it looks like it's getting a fair amount of attention!
This interesting gadget currently retails for $7.64 US at Aliexpress and $9.99 US at Tabletland. If you check out the reviews for these DIY Google Cardboard Cellphone Virtual Reality 3D Glasses, you'll see that they have received universal praise from those that have used them. I've included a brief review from a satisfied TinyDeal customer below:
Such a cool idea. It's so easy to put together and, for the price point, it provides more value than could reasonably be expected. Thanks for helping me to introduce so many people to VR so easily!
If you want to try out a cool gadget that seems to be selling out quickly, then pick up these DIY Google Cardboard Cellphone Virtual Reality 3D Glasses! I hope you all enjoy your day, Bargainmoosers!
(Expiry: Unknown)