January 30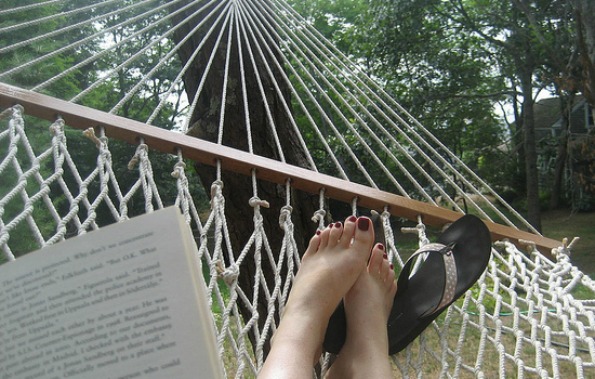 Breezy summer days, I know you will be coming soon. The Cot11 Hammock with 12Beam  or 12 BeamOrb stand combo was $139 but is now only $75 @ Walmart.ca. Free shipping with no minimum is available for all orders at Walmart.ca.
Summer I miss you. I have started a little bucket list of things I want to make sure I do this summer. Even if I do not complete all of the items on my list, somehow in the middle of winter that summer bucket list makes me feel better. I feel like I am Olaf the snowman dreaming about summertime.
Grab this great little hammock and stand combo now. This combo was $139 but is now only $75 @ Walmart.ca. Free shipping is included with all orders at Walmart.
The frame on this hammock is made of steel and includes three cross beams for full support. I quite prefer having a frame for my hammock. Despite having moved quite a bit, I never seem to have two trees close enough together to hang a hammock in my backyard. The stand on this hammock comes in a beige or an oil rubbed bronze finish. Personally, I will be looking at the sky mostly anyways.
The frame is supposed to go together without tools and has a weather resistant coating. You should be able to leave it outside for a good portion of the year. If it was me, I would leave it outside until I am no longer in denial that summer is over fall starts turning cold.
The rope on this hammock is 100% cotton. This hammock is intended for one adult to use at a time but I bet two kids could fit in it together if they were not huge. That might be important to you if you have more than one kid who fights over everything. Mom's turn on the hammock kids, now pass me my glass of wine. Go play in the sandbox Eva found earlier today kiddos. Even better, if you have no kids you can grab yourself a good book and swing away all evening after a long day.
I checked around the competition and here is what I was able to find. Amazon.ca has a Guide Gear Portable Hammock for one with stand through a third party seller for $90.32. Lowes.ca has a double hammock for $149 with stand included. Costco will sell you a double hammock with stand for $134.99. At Hammock Canada the cheapest hammock you can purchase is a Castaway Single Rope Hammock for $89.00 that does not include a stand. The hammock I found available at Hammock Canada is the closest I could find that was comparable in style to the Walmart deal. Walmart's price blows all of these prices out of the water. The cheapest frame alone costs $114 at Walmart. This combo is a steal.
There are no reviews on this hammock. You will have to trust your own instincts this time. This looks like a pretty basic model that should be sturdy enough for some lazy afternoon swinging. If you have a space big enough you could also set this up inside. Maybe that idea is just me dreaming about summer again.
Bargainmoosers, what is your favourite summertime treat you miss right now?
(Image Credit: kke227)
(Expiry: unknown)