May 15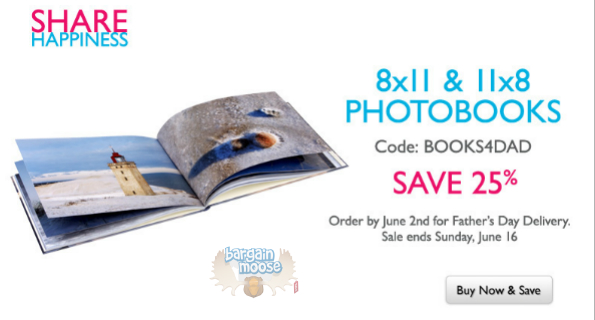 Capture all of those photographic memories in one place AND get a discount at Black's Photography!
Click here to get 25% off photo books @ Blacks.ca
Coupon Code: BOOKS4DAD
Discount: 25% off 8″ x 11″ photo books
Expiry: 16th June 2013
There are a bunch of different options you can get with these photo books and the price will vary accordingly. For example, a 42-page, 8″x11″ hardcover photo book is $64.63 ($48.47 with discount). The softcover version of that is $49.63 ($37.22 with discount).
These photo books are pretty cool. You can use the online editor or Black's desktop software to design it. It can just be solid pages of photo like the stacks of albums your parents have from the 70's where it's a very uniform layout of a certain number of pictures or it could be templates with coloured or designed backgrounds like a scrapbook.
Shipping is free on orders of $200 or more. For orders under $200, a shipping fee will be applied, depending on where you are having it shipped to.
For more deals from Black's, check out our Black's Coupon Code page.