April 13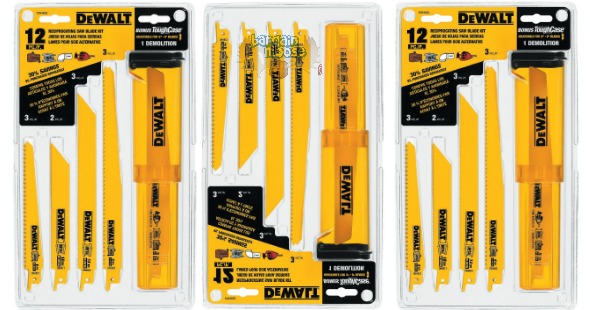 Warmer months have arrived, and that might leave you with more time doing renovations or hobbies outdoors. If your hobby involves cutting wood or other materials, then you probably have a reciprocating saw. Replacing the blades can be costly, but right now Amazon.ca has the DEWALT DW4892 Reciprocating Saw Blade Set with Case on for $19.99 instead of the original price of $52.42. Spend just a few dollars more and you will get free shipping too.
The Dewalt Reciprocating Saw Blade Set with Case has 12 pieces. It is shipped from and sold by Amazon, and out of 14 reviews it still holds a 4.5 star rating. There is an excellent amount of blades here for this low price of just $19.99 at Amazon Canada. DEWALT makes pretty high quality blades too, so they should last quite a while. Hint, hint. This might even be a great Father's Day gift.
Reviews say that these blades are great! One Amazon.ca reviewer says that he has used the wood blade and it was able to cut through thick nails as well. The case is a great feature to hold all of the blades. I am sure blades would be easy to lose, and you wouldn't want your kids getting their hands on them either. You can expect this 12 piece Dewalt Reciprocating Saw Blade Set to be easy to store. There are two different types of blades included: for both metal and wood. There are several different lengths to choose from, to go with different types of projects you may be working on. You may find you don't need all of the blades included, but you never know when they might come in handy. This case can even expand to hold 9-inch blades, although the blades included are only between 5.5″ and 8.5″. The blades included are as follows:
5.5″ wood blade
8.5″ wood blade
5.5″ metal blade
7″ metal blade
8″ fire and rescue blade
Add just a few dollars more to your total and you can get free shipping. Amazon Canada ships your order for free if you spend $25 or more. This is wonderful because other Canadian retailers like Lowe's have this product for $37 plus shipping!
(Expiry: Unknown)