May 30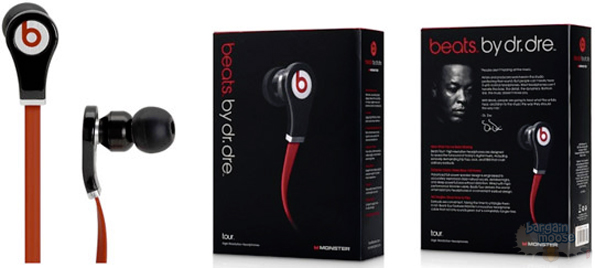 Grab these Beats by Dr. Dre Tour In-Ear Headphones for only $39.99 with free shipping from Dailygrabs Canada! The list price is $149.99, so it's actually a great saving, as you will see explained below.
As I write this, the date on the Dailygrabs site states that the deal expires in a few hours, but I am told that it is being extended for a few more days. There is limited stock though, so if you're interested, buy soon.
In case you haven't heard of Dailygrabs before, we've had them on our coupon section for a while now, and they've been around for a few years, as you can see from their Facebook page. However, this is the first time we've mentioned them on the blog itself.
Price comparison
When I spot what I think could be a hot deal on an electronics item, I instantly put on my price comparing hat to see how much I can find the item selling for, from other Canadian online retailers. And the news is good on this one! Here's how much these Tour Dr Dre earphones are elsewhere: $100 @ Futureshop, $140 @ Staples, $135 @ The Source, $160 @ Bestbuy, $100 @ EBgames, $160 @ Apple store, $140 @ CanadaComputers, and the lowest I can see: $98 @ Visions. You can see that the Dailygrabs price beats the lowest price elsewhere by $58… sweet!
As we've seen on some other daily deals sites in the past, sometimes they offer items copying other famous brands, passing them off as originals. When I saw the great price on these Dr Dre earphones on Dailygrabs, I was a little concerned about the fact that the price might be too good to be true, so I dropped them an email to inquire. Dailygrabs stated that the serial numbers are confirmed with Monster and they are all covered by the 1 year warranty too, which is fantastic.
Did you know that Apple recently purchased the Beats by Dr Dre brand, both the electronics end as well as the Beats Music streaming service? Here's an article about the purchase. It was a super bargain price for Apple too, costing them a mere $3 billion. It's apparently the largest acquisition in Apple's history. That's silly money! The Beats by Dr Dre brand has a lot of fans though… many  people think the quality of their electronics are superb. Have you got any opinions on the brand?
(Expiry: 2nd June 2013)