November 9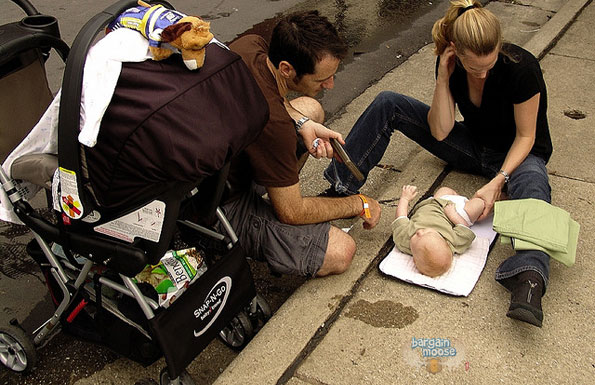 Have you ever been caught in a situation like the one pictured above? Whether you have or haven't, if you have a baby, you need to be prepared for any situation and an organized diaper bag can certainly be a life save. Right now at Toys R Us, you can get 50% off two models of Safety 1st diaper bags: one is in the fashion of a regular bag and the other is a back pack.
In the first couple of months of my baby's life, I have to admit that I got away with using a regular large purse to store all of the diapering supplies I needed and this, even though I had a diaper bag tucked away in my closet that I received as a baby shower gift. Needless to say, as time went by, I found myself using the diaper bag more and more and I have since ditched my purse altogether. When it comes to travelling with a baby, a diaper bag is definitely a life saver. All of the pockets and compartments are very useful as you just never know what you're going to need to tuck away or what you may find later. Just recently, I found an old diaper in my bag (luckily it wasn't a #2 kind of diaper) from when I changed my baby at the doctor's office. Throwing diapers into their trash is strictly forbidden, which is why it got stored away. All this to say that if you have a baby, are expecting one, or are maybe even shopping for a baby shower gift, then this sale at Toys R us is worth it as you can get the following two Safety 1st diaper bags for half off:
Both come with a changing bag and loads of storage space but personally, I much prefer the handbag variation, especially since it looks classy and not like a diaper bag at all. I have seen some pretty ugly diaper bags, so trust me when I say that this one isn't!
Since shipping is only free on orders over $25, be sure to check out the other Babies R Us deals going on right now. (Image Credit: Zen Sutherland) (Expiry: 13th November 2014)