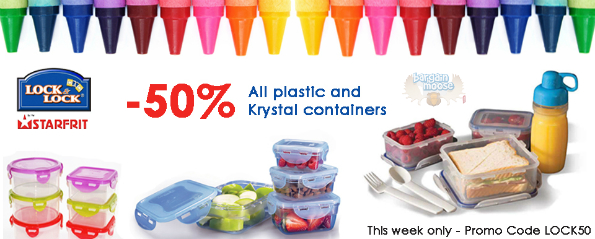 Keep your food safe and secure in Starfrit containers for 50% off!
Click here to buy Starfrit @ AtlanticPromotionsInc.com now
Coupon Code: LOCK50
Discount: 50% off Starfrit Lock & Lock
Expiry: 11th August 2013
In the past, I have bought some cheap-o containers to store my leftovers and food that I take to lunch, but they never worked properly. The covers would come off, the containers would break, stuff would spill. It sucked. I know if I just handled the containers a little better, the stuff wouldn't spill, but not spilling my stuff is the container's job, not mine. So, I fought against our cheap container based oppressors and bought some good quality containers, and they are awesome. I could toss these things against a wall and they wouldn't spill. They're great.
But, with good containers comes a higher price tag, and I know that some of these are like $3, so it's not a big deal to pick one up. They are probably not gonna break the bank, but if you want to replace all your junky, stained, and mismatched containers with these Starfrit Lock & Lock containers, it could end up costing you a bit. That's where the 50% off coupon really comes in handy.
Shipping is FREE on orders over $75. Otherwise, it varies based on what you buy and where it's shipping too.
Click to check out the forums for more Atlantic Promotions Inc Coupons.