January 11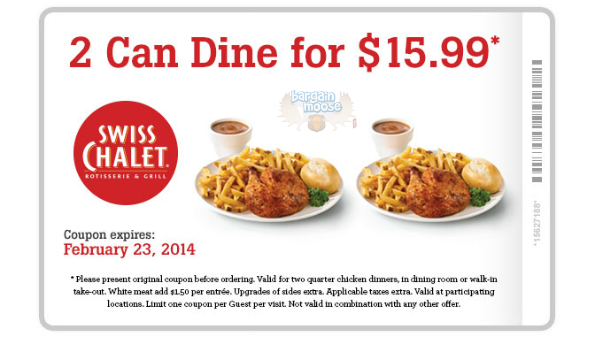 Eat out without breaking the bank at Swiss Chalet.
First off, I think the prices at Swiss Chalet can vary, so I'm going to go with the price locally. I called my nearest Swiss Chalet and they said it was $10.38 for a quarter chicken dinner. Going on this price, the coupon is saving you about 25% or $4.77. The original price for me would have been $20.76, but it'll be $15.99 with this coupon. You can print it off and bring it in, or show it on your cell. Either way works.
I don't go to Swiss Chalet much anymore but when I do go, I always get the same thing. I always get their burger. I don't know why, I just really like it. I think it runs in my family though because my grandmother always used to get this meal, the quarter chicken, even if we didn't go to Swiss Chalet. We could be at a seafood place and she would ask if they had a chicken dinner of some sort.
If you always get the quarter chicken like my grandmother or you want to break your burger streak like me, this is a great deal.
Get more Swiss Chalet Coupons on the Bargainmoose forum!