October 23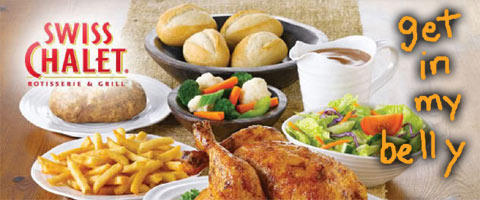 There are quite a few Swiss Chalet coupons floating round the interwebs, and there have been for some time. From my controversial Swiss Chalet post back in March, we've seen quite a few decent coupons from time to time.
Right now, there are a few new coupons which you can use either online or in-store.
Click here to order online @ Swiss Chalet Canada
Coupon Code: FP159
Discount: 2 free slices of pie with family pak & 4 drinks (take out)
Coupon Code: CM176
Discount: 20% off the complete meal platter (dining room)
Click here to print out the Swiss Chalet coupon for in-store use
I am not sure of the original source of the printable Swiss Chalet coupon, and there have been a few concerns on other forums that it might not work, as it is not the "original." Please let me know in the comments below if you manage to successfully use it!
These free coupons will expire on the 8th of November 2009.