February 26
I've found a great discount coupon which you can use at your local Stokes homeware store. The free online coupon gets you a discount of $10 on a $50 spend. What's even better is that they currently have a bit of a "sidewalk" sale on, with an extra 40% discount on all clearance merchandise in store.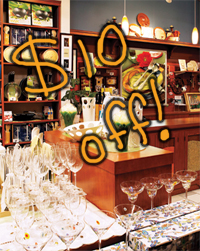 The coupon doesn't seem to be restricted to regular priced merchandise as some retailers are likely to do. However, it does say "Cannot be combined with any other offer" so it might depend on the store if you can use it on the clearance items or not. No harm in trying!
Click here for your free printable coupon to get $10 discount on a $50 spend in-store @ Stokes Canada.
Click here for the Stokes store locator.
Additionally, if you want to, click here to enter a contest on their website to win a $200 Stokes gift card.
Stokes sell loads of tabletop and giftware products for the home. They actually have 98 stores across Canada, that's quite a few!! They started in Montreal in 1935, so they've been on the go for quite a while.
This free coupon expires on the 1st of March 2009.