May 11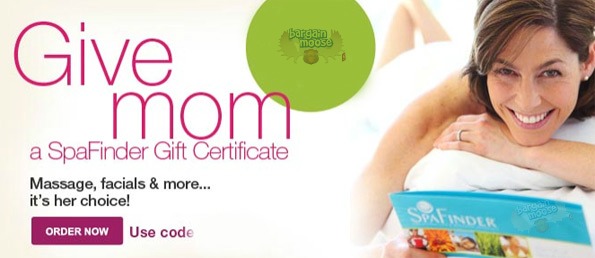 Spa Finder Canada has 2 coupon codes out right now that will save you money on your purchases depending on how much you spend.  Spend $25 and save 5% or spend $50 and save 10% in gift cards or certificates.
Here are the details for both of these coupons:
Coupon Code: SPACANADA
Discount: Save 5% on $25 or more
Coupon Code: MOM10
Discount: Save 10% on $50 or more
This is the perfect gift for Mother's Day.  I like that on this website, you can print your gift certificate off right when you buy it.  This is perfect for those last minute gifts.  You can also send it to someone that lives miles away by selecting the e-gift card.  There are no shipping costs and it will be sent immediately to their email. I have family that lives in another province and with a gift like this; I don't have to worry about the mail being slow or delivery companies being late!
Also, it is so rare that you will find a coupon code for a gift certificate because most coupon codes are not valid on GCs. These coupons are specifically for gift cards and certificates.  Because the codes are only good until 14th May, I might end up buying a few and hold onto them for birthdays and special occasions as gifts (or maybe treat myself). You will be able to pick from spas, facials, massages and more.
This is a great time to take advantage of these coupons because these are the first coupons that we have ever found for Spa Finder so who knows when there will be more!  You can find these Spa Finder coupon codes on the bargainmoose coupon forum.