May 24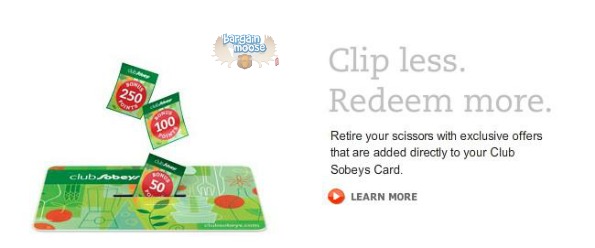 No more printing and clipping coupons – all you have to do is load your Club Sobeys card and you will automatically get the deals when you shop now! How easy is that!
I did it earlier today and it gives you the option to load one or all of the coupons to your card.  There is no limit as to how many you can load so I added all of them just in case I have an impulse buy for one of the products.  It took me all of 2 minutes to sign up my card and load it.  It was so simple! I now have 6 different points coupons to use for my next visit!
This is a huge movement in Canada because this option has been widely available already in the US for a while now.  I am hoping that since one major chain does this, that many others might follow.  How awesome would it be to have your extra points for Airmiles, coupon discounts and more, already added to your card so you don't have to clip the coupons?  I don't know how many times I have sat at the kitchen table, clipped my coupons, lost some coupons, or forgot to use the coupons.  It is such a waste!  Now we don't have to worry about it because once you add them you will be rewarded automatically when your card is scanned!
Remember with your Club Sobeys points, you can redeem them for money back towards your purchases or you can save them and shop their rewards section (kind of like Airmiles) and redeem them for products.