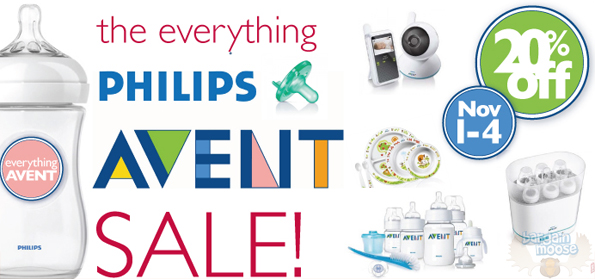 Buying baby stuff can be expensive… so any little potential discount can be a big help. That's why Snugglebugz.ca are offering the Bargainmoosers an exclusive $10 discount on a $100 spend from their online baby boutique. Here are the details:
Click here to use the Snugglebugz coupon code online
Coupon Code: SB-MOOSE10
Discount: $10 off $100+ (regular priced items)
Expires: 28th November 2012
The Snugglebugz coupon code will work on any order on their site, including sale items.
You only have to spend $40 to get free shipping, that's a pretty low threshold and good for encouraging us to buy!
There are a lot of fantastically handy baby items for sale on Snugglebugz, many of which I used myself while raising my little girl. Here are some examples and a quick note on what I thought of them:
Avent Formula Dispenser / Snack Cup for $8.99 – I used this dispenser for formula. It was very handy when we were out and about for the day as it holds 3 portions, and it was also very easy to wash and keep clean. All Avent items are currently on sale until the 4th November 2012.
Baby cubes for $6.99 - When you're pre-preparing baby food, you don't need special containers, you can just use ice-cube trays. But I went for these baby cubes, and I found that they were much handier and more hygienic too. I was also able to write the date on the lids, so I could see which foods needed used up before the others. These were perfect for storing batches of cooked veggies and giving to baby at a later stage.
Baby Bjorn comfort carrier for $209.99 – Now, I personally would not have spent so much cash on a baby carrier, but this was gifted to me when my baby was born. And it is an excellent piece of kit. I used it for the first year or so, on a countless number of occasions. I found it particularly handy right at the very start, when I would wear it to the grocery store, with baby in comfort on my chest. Plus, it's still in superb condition and I will be using it for my next child too.
P.S. Snugglebugz is currently running a semi-contest on Facebook. The more likes they get there, the more of a percentage discount they're going to offer for a future promotion (starting on the 5th November 2012). They're currently on 17k likes but they're just a bit short of their target of 20k likes. If they reach that level, they will give out a coupon code for 15% discount on the entire site – please "like" them if you want to help out!