November 15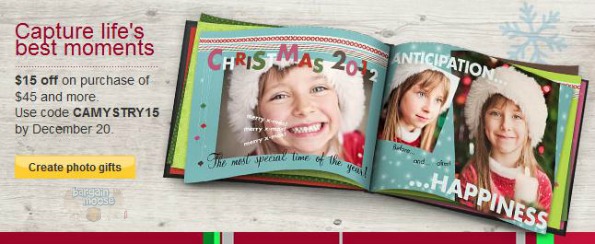 There are another few great coupon codes out for SnapFish that I thought we should share with you.  You can get free shipping on your order or you can save $15 off your purchase of $45 or more for a limited time only.
Here are the details for these coupons:
Coupon Code: CAMYSTRY15
Discount:  Save $15 on purchases of $45 or more
Coupon Code: CASHIPPING30
Discount: Free shipping on orders over $30
Coupon Code: CACALENDAR25
Discount: 25% off 2 calendars
Coupon Code: CAORNAMENTS30
Discount: 30% off Christmas tree ornaments
Expires: 25th December 2012
All of these coupon codes are valid until 20th December 2012 except for the last which is valid until Christmas.  That means you will have just over an entire month to use them.  The last 2 coupons are ones we've previously posted, but with so many coupons and everyone wanting to save on Christmas presents, I thought I would post them all so you can pick and choose.
For all of the latest SnapFish coupon codes, make sure you check out the Bargianmoose coupon forum before shopping online.