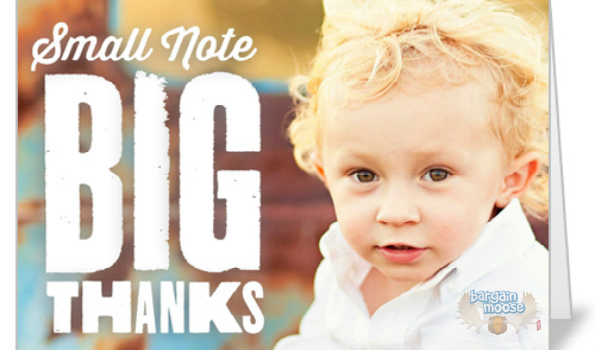 I'd buy each and every one of you a thank you card for being so awesome if I could. With this deal for twelve free thank you cards, I'm one step closer to that!
Click here to shop thank you cards @ ShutterFly.com now
Coupon Code: 12FREE
Discount: Twelve free thank you cards
Expiry: 19th August 2013
I tested the coupon code myself and got twelve of the With Many Thanks Boy Thank You Card. Twelve cards were $17.16 (then I did it again and it said $14.28) but the coupon code got them for me for free. Shipping on this particular batch of cards was $4.99. Making the card was quite easy and very intuitive. It only took me two or three minutes to do it. Each card has its own customization points, so some might just need one picture, some, like the one I did could use three or four individual images. Their thank you card section is quite expansive too. Just in the Baby Boy Thank You Card section there are 71 different designs to choose from.
I'm not personally a big fan of cards. I don't even like buying cards for people's birthdays. My wife, though, absolutely insists that we get cards for people. I remember when we were first dating we spent well over an hour in the mall looking for a card for her dad. I almost dumped her right then and there. I should just get her to start buying all her greeting cards here in advance so I don't have to spend 20 minutes looking for a $7 piece of paper to stick on a $50 gift every time a birthday or other card-worthy holiday should arise.
Check out our ShutterFly Coupon Code Page for more deals.
What do you think about cards? Let me know in the comments below!