January 21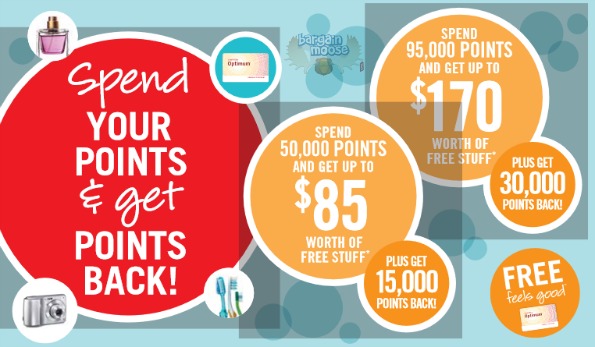 Shoppers Drug Mart has a very popular coupon back finally and it will be valid for just two days only.  Spend your Shoppers Optimum points today or tomorrow and you will be able to get Shoppers Optimum points back in return.
Here is what this coupon will do for you:
Spend 50,000 points get $85 worth free items & 15,000 points back
Spend 95,000 points get $170 worth free items & 30,000 points back
The 15,000 points back free is worth $32 worth of free items on a bonus redemption day and the 30,000 points are worth about $63 on a bonus redemption day so both are really great deals.
I think this coupon is great because not only do you get a bunch of free items that you pick out for yourself, you get points to earn more free items in the future.
All of the regular conditions apply to this coupon just like all of their other coupons.  If you work out your order so that you get your full amount of items free, you will just need to pay the tax on your order.
You will find all Shoppers Drug Mart coupons on the Bargainmoose coupon forum.
(Expiry: 22nd January 2014)