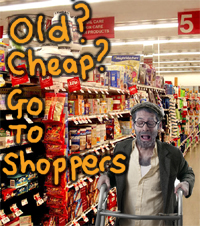 The last time I blogged about senior's day at Shoppers Drug Mart was wayyyyyy back in August. I suppose I may as well give you the heads up and tell you guys that Thursday the 26th of February 2009 is also Seniors Day @ Shopper's. It's a similar deal as well – spend $50 in-store and get a free $10 Shoppers Drug Mart coupon! There's also a 20% discount on all regular priced purchases.
This is a perfect excuse to grab your mom or dad (if they're old enough) and drag them round the drugstore! I spotted this on page 6 of this weeks flyer if you'd like to try and read more – but the text is so minuscule, that it's only readable by ants with 20 20 vision.
For me, it's very easy to spend $50 at Shoppers, or Shoopers as my fast fingers always try to spell out. I think ladies find it very easy to spend that amount… but the guys might have more difficulty in doing so.
P.S. Remember to have a quick nosey through our printable coupons – there may be some in there which would be useful to you when making your purchases. E.g. The BOGOF coupon for popcorn.
Thanks kirstiecat and aknacer.