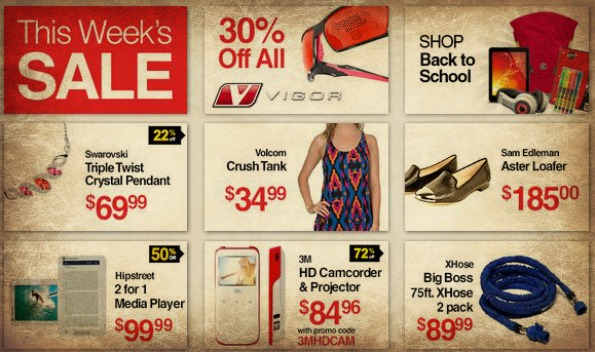 Just thought I would let our Moosers know that we have an exclusive coupon code for Shop.ca that will get you $10 off every purchase of $50 or more.
Click here to shop @ Shop.ca now
Coupon Code: MOOSE
Discount: $10 off $50
Expiry: 31st December 2013
This coupon code is stack-able with the $25 off $100 for new customers – meaning that if you spend $100+, you will get $35 off in total. Pretty nice savings.
Shop.ca has many deals on right now and my favourite by far I have already mentioned: The sale on Denby Glassware. I purchased this 10 OZ DOF Glasses Set of 6 by Denby – Fire when I posted about the sale and I just adore them. The bottom of the glass is nice and heavy; the glass is thicker without being too thick. I love the pebbly feeling of the bottom. They hold a lot of liquid and they are really easy to clean. They look and feel like they will last a lifetime. The only downside is the fiery red – I was hoping for far more of an orange. With this coupon, I would love to upgrade our wine glasses to these 7 OZ WHITE WINE SET OF 6 – OYSTER by Denby on sale for $29.99 (originally $199.99) and also get this 15 OZ LONG DRINK SET OF 6- JET by Denby for smoothie glasses – also $29.99. Together that totals $59.98, and with our exclusive coupon, I could get $10 off that. So, for $50 I could have two sets of lovely quality Denby glassware. Wow!
Shipping on all items is free.
Looking for more ways to save money at Shop.ca? Check out more Shop.ca Coupons at the Bargainmoose forum, which is jam packed with more fantastic coupons!