Crocbands Sale: Save 50% Off Crocbands @ Crocs Canada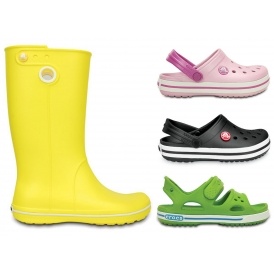 I don't care what anyone says, I love my Crocs! They are ideal for kids: easy to wash, come in fun colors and most of all, comfortable. Crocs Canada is having a "Crocband Sale", offering 50% off crocband styles for children and adults. This is one of their best collections and you can choose from lots of colors and sizes. You can choose from rain boots, snow boots, sandals and the original Crocs.
The Crocband Sale has 10 models to choose from, but I think the nicest ones are the original kids crocbands. They've recently added new colors, like the ballerina pink ones displayed in the picture. These were $40 and you can get them for only $20 with this sale.

If you think these like crocbands look familiar, you may have seen them on little Prince George! They completely sold out last summer when he was photographed wearing them. I have to say, his mom Duchess Catherine Middleton sure has good taste, these crocbands are adorable. I'm glad they are back in stock for us to enjoy!
If you spend more than $100 at Crocs, shipping is free! If you can't meet that minimum, shipping is a flat rate of $9.99.
(Expiry: February 29th 2016 at 1:59AM EST)