March 29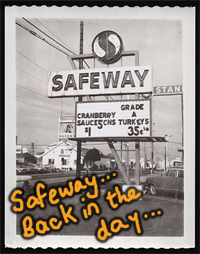 Alas it's only for 1 day, but it's great if you shop at Safeway Canada! On Wednesday the 1st of April 2009 only, you can get a 10% discount when you print and present the Safeway coupon in-store.
Click here to print out your free coupon for Safeway Canada.
You must spend a minimum of $100 to get your discount with the grocery coupon. You also need a club card, which the regular Safeway shoppers will have anyway. Even if you don't have a Safeway club card, just sign up for one in-store on the day, it's free anyway.
Boring bits:
With a single purchase of $100 or more in a single visit after deduction of Safeway Club Savings and manufacturers' coupons. This coupon must be presented at time of purchase. One offer per coupon. One coupon per customer. Excludes purchases of Liquor, Tobacco, Postage Stamps, Fuel Purchases, Transit Passes, Event Tickets, Lottery Tickets, Gift Cards, Gift Certifi cate sales, all Pharmacy Prescription purchases, Safeway Club Card Savings, Safeway Store Coupons, and Sales Tax. COUPON CANNOT BE DOUBLED OR COMBINED WITH ANY OTHER OFFER.
I'm not a Safeway shopper, I'm a Superstore gal… but I hope this is useful to some of you guys!
Thanks for the excellent image Roadsidepictures!