October 9
For all you frequent flyers and food buyers out there, here is a coupon to wet your appetite. Get 5x the normal Air Miles when you do a grocery shop of $60 or over before October 16, 2010. Thank you to Mooser Carolyn for sending us this coupon!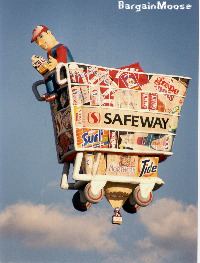 I don't collect Air Miles but my husband does, and one day we may actually take a trip on them…. like maybe from Edmonton to Calgary, if we have enough.
Safeway only exists in Western Canada (sorry eastern Canadians!) so this is a westerly deal.
Coupon expires October 15, 2010.
Btw: The picture to the right is a hot air balloon maid to look like a Safeway shopping cart, complete with child in seat, Grape Nuts and Tide. Isn't it cool?