February 20
Posted by
Yanyi
on February 20, 2010 at 8:00 PM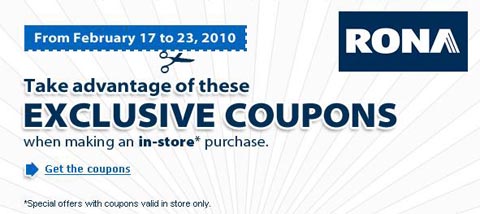 Here are a few Rona Printable Coupons for anyone looking for some DIY home reno this season.
These can be used until February 23, 2010, so hurry if you want to make use of them.
Coupons include:
Save $30 Double Kitchen Sink
Save $10 Galeon Ceramic Tiles per box
Save $50 Allure 4 Range Hood
Save on home renovations with these Rona printable Coupons. Use the Save $10 Ceramic Tiles coupon to make your kitchen or bathroom more welcoming and easier to clean. Switching up tiles can be a quick and easy way to freshen up an old kitchen or bathroom.