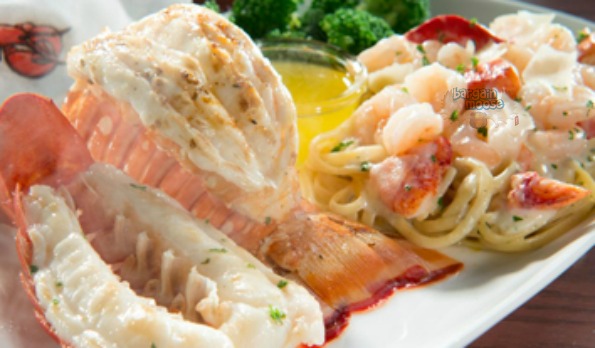 Red Lobster Canada is having its annual Lobsterfest on right now. They also have a printable coupon to get you an extra $10 off the purchase of two Lobsterfest entrees.
Red Lobster brings back so many wonderful memories of shellfish and butter. I finally talked my husband, who is not a seafood eater, into eating here and he was very happy he did. I'm going to have to show him this coupon because I am in the mood for some lobster! My kids also loved the food and the lobsters in the tanks, who I didn't explain were for someone's dinner.
Choose from some really delectable dishes:
Fire-Grilled Lobster & Lobster Tacos – new on the menu and how can you not love lobster in a taco?
Maritime Lobster & Shrimp Trio – new on the menu and comes with lobster and shrimp mac & cheese!
Bar Harbor Lobster Bake – also new on the menu and comes with scallops, shrimp and mussels too
Rock Island Stuffed Tilapia – just as it yummingly says
Lobster & Shrimp Linguini Alfredo – with garlic and cheese sauce
Fire-Grilled Sirloin Surf & Turf – peppercorn rubbed sirloin and mashed potatoes
Lobster Lover's Dream – with lobster and shrimp linguini
Harbourside Lobster & Shrimp – with garlic shrimp (my favourite!)
If you salivated reading this post, you know where you should head for dinner tonight. Its only on for a limited time. This coupon is over here in our Red Lobster coupon page too!
(Expiry: 24th March 2013)