April 2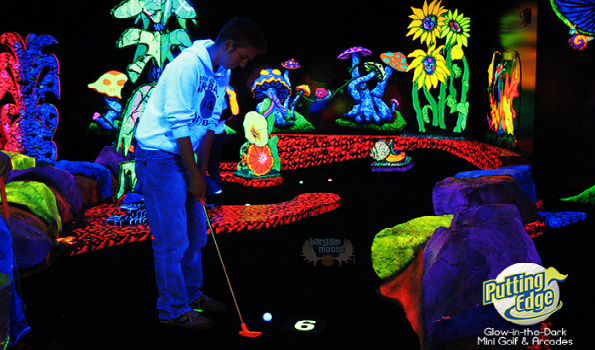 Get your Glow Mini Golf on for as long as you want with this printable coupon!
Woah! Something I've been to! I don't do much. I'm kind of a stay at home sort of dude. I've done a few things, seen some cool sights and been to some neat attractions but by and large I haven't been to a lot of really cool places. Even a lot of the restaurants we write up here on BargainMoose are foreign to me. So when I saw the Putting Edge coupon pop up I checked the locations right away. As it turns out, I've actually been to their Halifax, NS location!
Putting Edge is an indoor glow mini golf course. Basically just a regular mini golf course with black lights. It's a bit in your face so if glow bowling bugs you or if the last time you wandered in to a rave you were annoyed that you couldn't just sit and read your book quietly under a nice 60 Watt incandescent, you won't want to go.
Each location has their own hours and price page but so far all the locations I've checked have been $8.50 for 12 & under and $10.50 for 13 & older. Unlimited play cost and extra $2/person. This coupon waives the unlimited play fee.
They have locations in Ontario, Quebec and one in Nove Scotia. They are also in Orlando, St. Louis, Denver, Detroit and Chicago if you happen to be there.
Get more deals on our Putting Edge Coupon Code page.
(Expires: 5th April 2014)