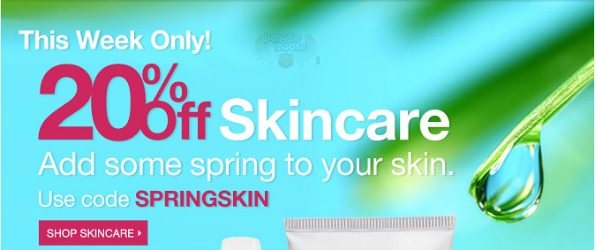 The weather is changing. Spring is supposedly coming and when seasons change so should your skincare routine. Pur Minerals is offering 20% off all skincare products with the following coupon code.
Click here to shop skincare @ Pur Minerals (US)
Coupon Code: SPRINGSKIN
Discount: 20% Off Skincare
Expiry: 31st March 2013
All prices are in USD. Pur Minerals offers free shipping to Canada on orders of $50 or more. I have ordered from Pur Minerals several times and never had an issue with duty/customs before.
This spring I am really interested in finding a good natural bronzer. The Eternal Summer Body Bronzer from Pur Minerals looks like just the thing I need to take my skin from ghastly white to a more natural healthy glow. Originally $24, after coupon it comes down to $19.20.
I could also try out Get a Little which is a self-tanning lotion… I've never tried one of those. It has a 4.92/5 rating with 13 reviews (that is pretty darn awesome!) and is currently priced at $22.50. After coupon I am only going to pay $18. There are a ton of nice comments on this self tanner… including this recent one:
Get a little is just what it says. I've tried many other sunless tanners and hated them. Just about when I gave up I found this while purchasing some other products. I love it because the color is so natural, it's not sticky or smelly! You can use this all year round, especially if you live in the western U.S. Great job Pur!!
I am thinking the western US can't hold a candle to living in Alberta… so I am very tempted to give this product a go!
Be sure to check our Pur Minerals coupon page for the latest promo codes and discounts available.