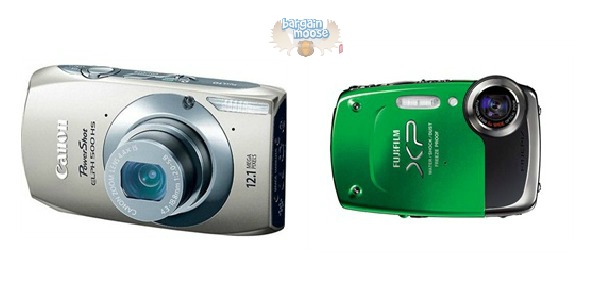 Price Matters Canada has some great deals on cameras, plus an additional 20% off promo code.
Click here to shop @ Pricematters.ca
Coupon Code: 20offcamera
Discount: Extra 20% Off Cameras
Expiry: Unknown
The deals are really great for this sale, so if you are in the market for a new camera, now is the time to buy.
The Sony Bloggie Touch camera (recertified) with the ability to take HD MP4 video is an absolute steal. Now only $63.99, it sells for $99.99 on Amazon. You can record up to four hours of HD video with 8GB of internal memory and instantly upload to social media.
The Fujifilm Finepix T300 digital camera (recertified) is a compact point and shoot with 10x zoom. Wholesaling for $136.99, and I couldn't find it for less than $150 from Canadian retailers, you can get it for only $29.59!
If you are looking for a DSLR, the Canon Rebel EOS  kit (recertified) includes two lenses, USB cable, battery pack, charger, camera strap, 4GB SD memory card and CD-ROM software. With all the bells and whistles you need for a full-functioning DSLR, this camera is highly recommended. Get it for only $319.99, wholesaling for $659.99 and sells at Best Buy on sale for $450.
Bargainmoose has an awesome exclusive coupon code for Pricematters in the coupon forum, which unfortunately can't be combined with other coupon codes, but can be used for other Pricematters purchases you make.
Shipping depends on location.