December 11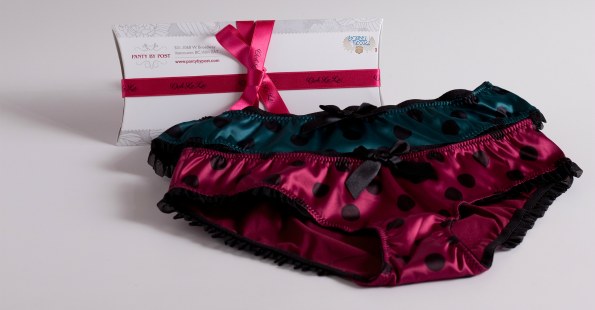 As Anna mentioned before, PantbyPost.com is a Canadian premium panty boutique, based on Vancouver that offers a subscription service to underwear! I am a huge fan of lingerie so this service is totally up my ally. When given the chance to review it I jumped at the opportunity!
I received a mystery panty in the mail from PantybyPost after supplying just my size and address. It came very quickly in the most lovely package that fit right in my mail box, no trekking to the post office to pick up the parcel. The package inside was wrapped in beautifully decorated tissue paper. Upon opening it up I was delighted to receive the Serendipity panty (designer Blush) in a lovely white with black ribbon accent. The material was fab, one feel and you knew by the thickness and softness that this was a quality pair of underwear.
The entire experience was delightful, I would look forward to getting a pair as often as my budget (or my husband's budget) allows! As women we often ignore our need to feel sexy and beautiful – and sexy underwear does that for me. We also tend to ignore basic hygienic rules: we can't keep our underwear forever: if our underwear has holes, is worn, stained, if the elastic is starting to have 'issues': it needs to GO. I think a monthly subscription to underwear would keep a woman's drawers fresh, new: and be something to look forward to!
The girls at PantybyPost graced us with a lovely exclusive 20% off coupon:
Discount: 20% off
Coupon Code: MOOSEBYPOST
Expiry: 24th, December 2011
When I tried it out on the big package (1 pair each month) it took around $39 off – which is the equivalent of shipping for the entire year. Keep that in mind. You are paying for a premium service, but if you price it out per month it is still a great deal.
I think this would make an excellent gift for Christmas "hey hun, instead of celebrating the 12 days of Christmas, lets celebrate the 12 months of how sexy I think you are" and you could even get a pair or 2 just for putting in her stocking.
I love one of the notes they have and thought it would sum things up really well:
The secret to French women's confidence? It's all about what's underneath!